Lighters
---
Lotus - Developed by leading engineers and manufacturers of luxury smoking products, LOTUS proudly presents a line of lighters designed for the value-conscious cigar smoking connoisseur. Combining sportive European design, with state of the art manufacturing, LOTUS lighters perform with the elegance of a premium European manufactured lighter, at a fraction of the price. Finally, a line of quality lighters featuring extraordinary design and affordable pricing for every smoker to enjoy.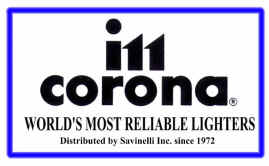 IM Corona - Distributed and serviced by Savinelli Inc. Since 1933 the IM Corona company has been producing some of the world's best lighters. For over 35 years, Savinelli has exclusively sold and serviced ONLY this line because of it's proven track record of reliability.
Over the years IM Corona lighters have been copied by many lighter companies. But they have never matched or even come close to IM Corona quality. Beware of cheap imiations!

If you love Ed Hardy shirts, hats or any of the various Ed Hardy products that are on the market, then you'll love the Ed Hardy lighters.
These are the lighters officially licensed by Ed Hardy Designs. Based on the popular Oil Ink Tatoo Designs by Christian Audigier, these lighters are currently avaiable in six different designs.
Each Ed Hardy Lighter comes individually packed in a glamorous tin box with an Ed Hardy tatoo on the top. These lighters are refillable and each of them come with a flip-top design.
HOME | ABOUT US | CIGARS | PIPES | PIPE TOBACCO | ACCESSORIES
OUR LOCATION | EVENTS | ORDERING INFORMATION | CONTACT US | SPECIALS
JM Cubed, Inc. 2018. All Rights Reserved.